OUR DOCTORS
Dr. Fidel Murphy
Dr. Murphy has lived in East Vancouver since 2005 with his wife and three children. He graduated from the University of Prince Edward Island with a degree in Biology (first class standing), then went on to graduate from the Atlantic Veterinary College in the Canadian Maritimes in 2003.
"I love the human-animal bond, what each gives to the other. I love being able to treat animals and extend the years owners have with their pets." Dr. Murphy has special interests in small animal medicine, chronic pain management, dermatology, dentistry and soft tissue surgery.
He shares a busy home with his wife, children, and their two cats Miles and Bird. Dr. Murphy enjoys swimming, skiing, spending time with his friends, and surfing when he gets a chance. He first joined the Canadian Veterinary Medical Association and the College of Veterinarians in 2003. He is also a member of the Veterinary Information Network since 2008 and sat on the board of the Hastings Sunrise Community Policing Centre.
Dr. Monica Faltyn
Dr. Monica Faltyn was born and raised in East Vancouver. She graduated from the University of British Columbia with a Bachelor of Science degree in Microbiology, coupled with a General Bachelor of Arts degree. In 2003 she graduated from the Western College of Veterinary Medicine in Saskatoon.
Dr. Faltyn loves getting to know her patients and their families. She enjoys the challenge of placing pieces of a diagnostic puzzle together, in order to help her patients. Dr. Faltyn's veterinary interests include geriatric medicine, endocrinology, radiology, and ophthalmology.
Dr. Faltyn shares her home with her husband and her two beloved dogs, Poppy and Copper. Poppy is a sweet, sensitive, beach dog from Mexico; and Copper is a cheeky, but charming, rescue from the SPCA. When Dr. Faltyn is not at the hospital, she enjoys painting, hiking, and going to agility classes with her dogs. She is a member of the Canadian Veterinary Medical Association, the Veterinary Information Network, as well as the College of Veterinarians of British Columbia.
OUR TEAM MEMBERS
Brenda
Brenda was born and raised in the Vancouver/Burnaby area and has worked at BCPH for 36 years! Brenda has a cat named Fat Zoe who is 15 years old, and who thinks the world revolves around her. When she isn't working, she enjoys travelling with her husband, Rob; along the way they have found a second home in sunny Arizona! Brenda enjoys spending time with her nephews, drinking chai tea lattes, and reading when she gets a spare moment.
Kara
Kara was born and raised in beautiful North Vancouver and has been part of the team since summer 2013. Having grown up in a household full of pets, Kara has always had a strong passion for animal welfare. Throughout her life, Kara spent countless hours volunteering at Maplewood Farm, animal shelters, and veterinary clinics, where she enjoys caring for animals of all shapes and sizes. In her free time, she enjoys playing drums and guitar, hiking, snorkeling, biking, and vacationing at her family's cabin on Vancouver Island. She graduated from the Thompson Rivers University Animal Welfare Program and the Fear Free® Veterinary Certification Program in Summer of 2022.
Caroline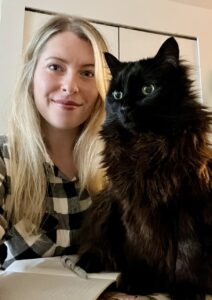 Caroline is our clinic manager. She joined our team in the summer of 2014! She is pictured here with her little troublemaker, Georgia. Georgia is an SPCA special, and enjoys keeping Caroline on her toes. Before joining our team, Caroline spent five months travelling around South East Asia! While in Bali, she took time to volunteer at BARC (Bali Adoption and Rehabilitation Center), where she helped to care for stray dogs, cats, and even pigs. Caroline's favourite activities include camping, cooking, hiking and spending time at the beach.
Lani
Meet Lani! Lani grew up on an apple orchard in the Okanagan with her many cats and dogs. She started in the veterinary industry over 10 years ago, working primarily with horses. Since then, Lani has moved to Vancouver, Edmonton, and back again, focusing her work on small animal care. Lani enjoys yoga, a bit of watercolour painting, as well as playing golf and biking with her husband. She happily lives on the North Shore with her two orange tabby cats, Fat Tony and Ariel.
Kathryn
Kathryn joined the Blue Cross team in June of 2019 as one of our veterinary assistants. After completing her Veterinary Assistant diploma in 2017, Kathryn's career in animal welfare began working at a no-kill, non-profit animal shelter in Winnipeg as a shelter care attendant. She moved back to the west coast after living overseas in England and, for a couple of years, back in her hometown in Manitoba. Her love of animals has always been an immense part of her identity. She graduated from the Fear Free® Veterinary Certification Program in Summer of 2022. When Kathryn is not working, her love of photography, scuba diving, hiking and travelling keep her very busy. Kathryn is pictured here with her family's rescue dog, Gibson, on a hike in Manitoba.